The Nose of New York City
The Heart of American Scents
for Nearly Three Centuries
As the histories of perfumeries go, there surely is no tapestry as rich and authentic as ours in New York City. Our remarkable story is woven into each of our captivating scents as each fragrance carries with it its own history in the memories of the many thousands of customers who have worn them, shared them, become directly associated with these scents as their personal signature, and left our scents alive in the memories of their loved ones and significant others.
Over countless years, we've also acquired a loyal following of celebrity clientele who favored our classic collection of fragrances and customers for who we made bespoke scents specifically to their tastes. This dedication to customer service, customization, and personalization is one of the many ways we became renowned as one of the greatest noses in New York City throughout the 18th Century and a destination for New Yorkers throughout the 19th Century.
Our first store was opened in the basement of the Fifth Avenue Hotel in 1854, by the partners in the business at the time, Philip Caswell Jr. and Rowland Robinson Hazard Jr. Both Philip and Rowland were Newport Natives but no strangers to New York City, whose population was growing rapidly. The Fifth Avenue Hotel was a very prominent and important location, and Caswell & Hazard's shop easily carried its classic reputation from Newport to New York City, including its well-known fragrances such as Jockey Club, Number Six and White Rose - as well as Caswell's Coca Wine, Castile Soap, Root Beer, Candies and a famous Soda Fountain that complimented the company's apothecary business. 
Over the next century, the business expanded across the city and opened additional stores at other locations on Broadway and on Sixth Avenue. These stores would introduce our famous cucumber line and yield bespoke fragrances for famous women in New York, such as Marem (1914), created for Alla Nazimova and Valentina's 'My Own' for the fashion designer.
The brand would eventually find its home on Lexington Avenue at the Intercontinental Barclay Hotel - a store that would survive the depression and become synonymous with the Caswell-Massey brand. This store became a must-visit destination in New York and a temple to the art of the Apothecary for eighty-five years. It was here, under the careful guidance of Ralph and Milton Taylor, that many of our most famous fragrances were born, including Cole Porter's favorite, Tricorn (1941) and a wonderful green fougere, Greenbriar (1984). The store would be featured in many publications and was home to celebrations from its opening party straight through to 'Caswell-Massey 250th Anniversary Day', February 21, 2002, Proclaimed by Mayor Michael Bloomberg in 2002 for the company's 250th anniversary.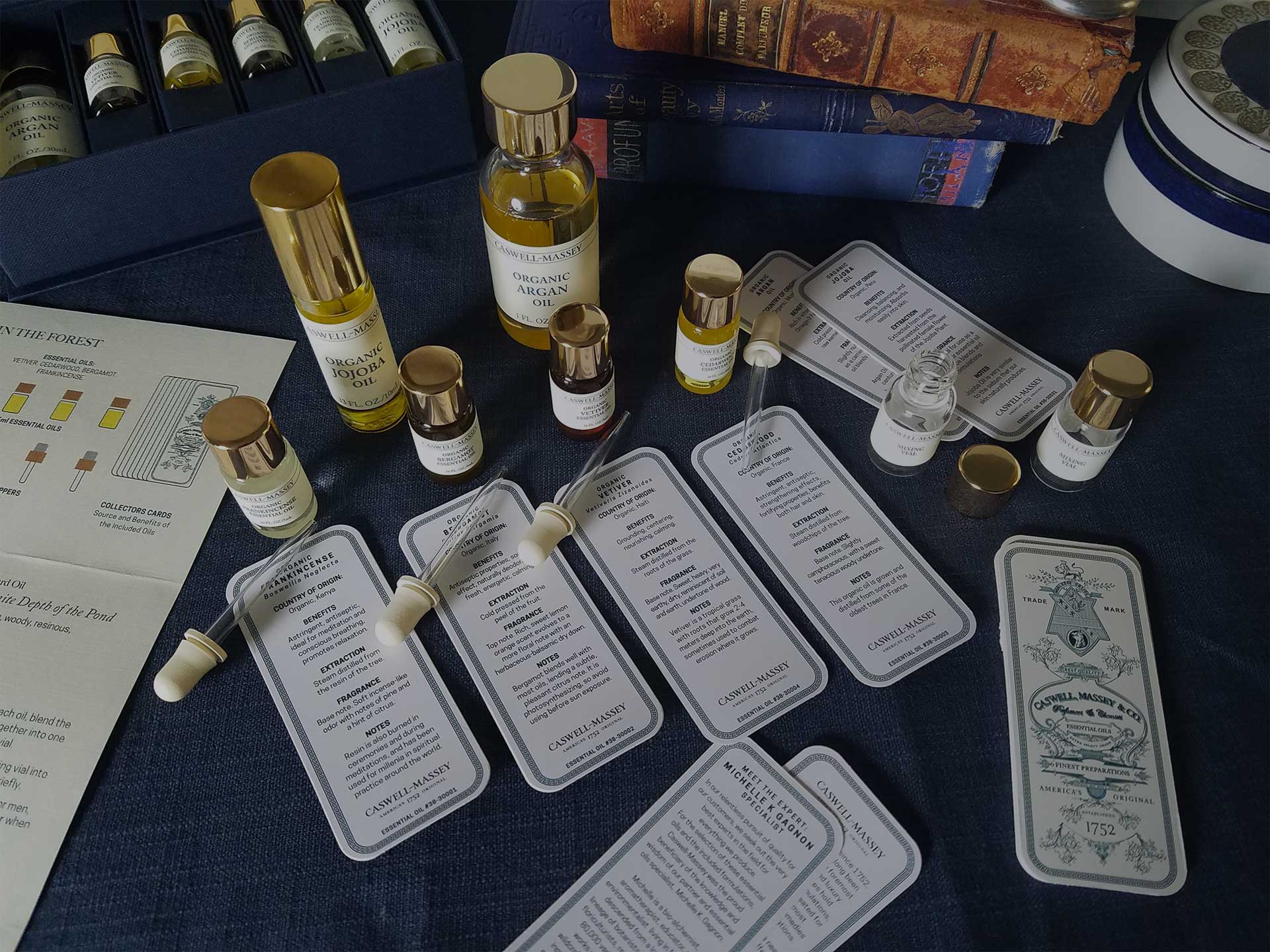 Apothecary
Luxurious Essential Oils in Collaboration with NY Bio-Alchemist Michelle K. Gagnon
Read more