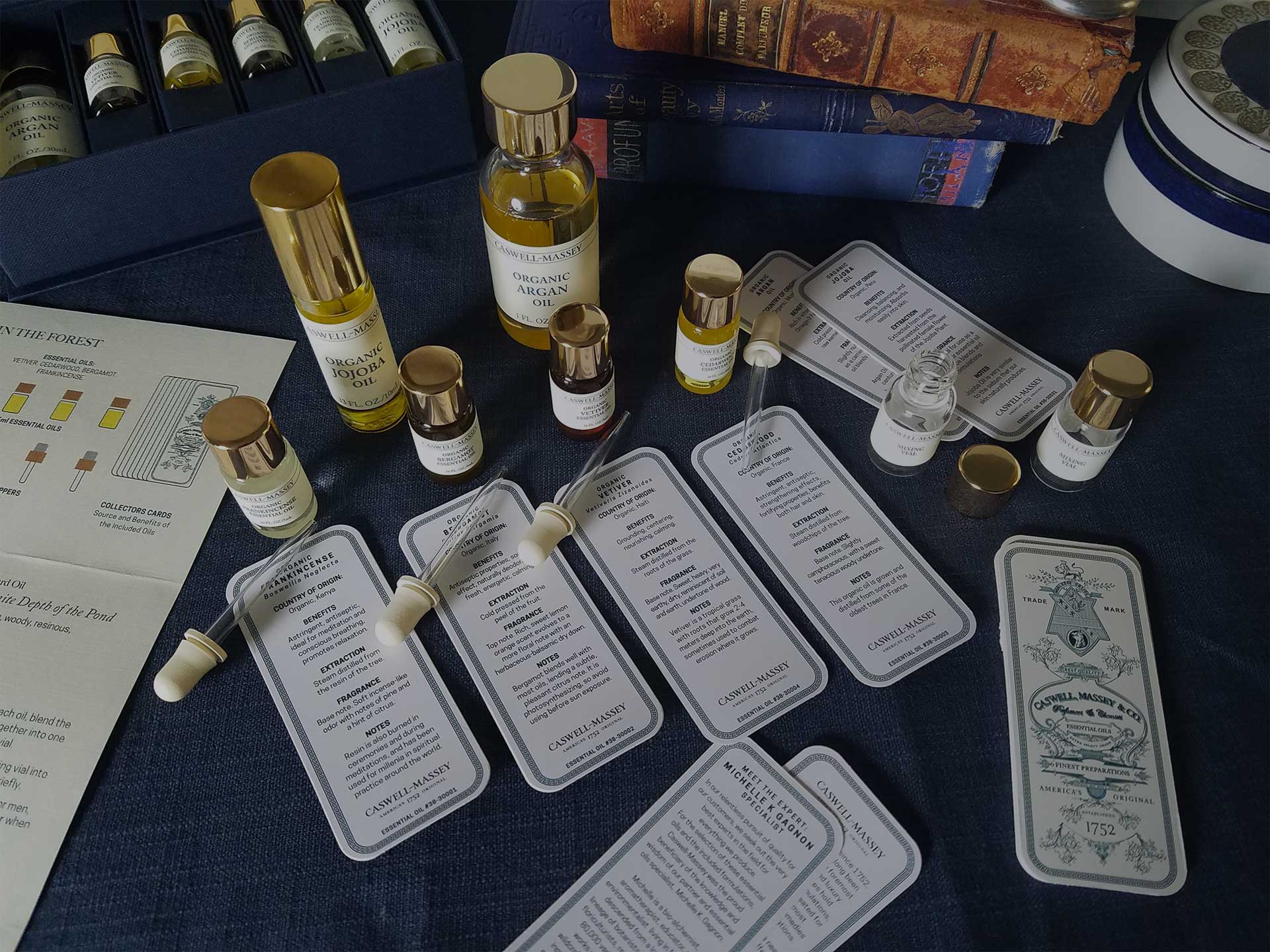 Essential Oils Mixing Kits
In our earliest days in Newport, Rhode Island...
Essential Oils were imported for many purposes including apothecary remedies and of course for aromatherapy and fragrance development. Many of our most loyal customers will remember our essential oils in their small brown bottles that were sold at our New York store as well. Essential Oil Blends like Holy Smoke!, Hot Stuff, and Spice of Life were quite popular, and we also provided a resource for customers who wanted to blend their own fragrances or create potpourri blends.
Above, images of Holy Smoke! Essential Oil Blend and Pure Carnation Oil from the 1970s.
We're incredibly proud to be bringing these items back into our assortment, and we are starting with a beautiful, ready-to-gift kit that provides everything you need to learn about the beauty and power of essential oils.
"So much of our 265 year history as a company is rooted in essential oils, and they are key ingredients in many of our products" said Caswell-Massey's president, Nick Arauz. "It seemed like a crime that we had left this business, and we wanted to bring it back the way a 265-year old company should do it - with the very best quality oils, a beautiful story behind every ingredient, and beneficial ways to use the oils, drawn from our roots as an Apothecary."
To create these formulas, Caswell-Massey turned to Michelle K. Gagnon, a Bio-Alchemist, educator, and environmentalist in New York City who works with private clients. Michelle is descended from a long family lineage of botanists, gardeners, and floriculturists, responsible for over 80,000 varieties of Rose. Michelle guided the sourcing of the organic and wildcrafted oils, and created a set of mixing formulas to guide customers on how to blend the oils as fragrance oils or skin and body oils.
Above, Michelle K. Gagnon in her NY Blending Studio, and out in the world researching and distilling essential oils.  
From Michelle Gagnon: "When working with such precious botanical ingredients I feel it is important to acknowledge, share, and appreciate all the plant has to offer; and that is exactly what we did with this project.  These essential oils provide more than an olfactory experience, they offer many medicinal properties as well. This is a tribute to the rich history of the company and to the botanical ingredients themselves."